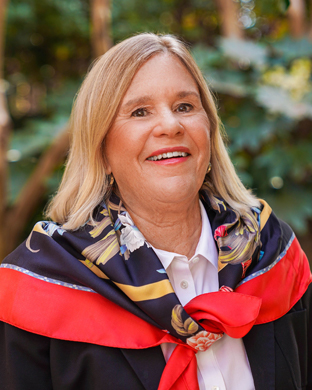 Georgia Supreme Court
Georgia Court of Appeals
All Georgia state trial courts
Lamar School of Law at Emory University (J.D., 1976)
Smith College, Northampton, Massachusetts (B.A., 1968)
Domestic Relations & Family Law
"When facing a divorce, I help clients overcome anger and fear with self-respect and newly found confidence."
Trusted expertise, integrity, and dedication. With over 40 years of success as a family law attorney in Georgia, Emily "Sandy" Bair pursues and protects her clients' best interests from the onset through the conclusion of a matter with great compassion and efficiency. Sandy will aggressively get the best result possible. She is committed to delivering high-quality legal representation in a cost-effective and personal manner.
Comprehensive representation. Family law matters require a balance between collaboration and litigation. Sandy specializes exclusively in family law matters, including divorce, complex property division, contempt and enforcement, alimony/spousal support, child support and visitation, modifications, prenuptial agreements and domestic partnerships. In addition, she has extensive experience in alternative dispute resolution. She has been a certified mediator for over 20 years and is the only Georgia lawyer certified by the American Academy of Matrimonial Lawyers in family law arbitration. She was appointed in 2010 by the Georgia Supreme Court to the Georgia Commission on Dispute Resolution. Alternative dispute resolution is an expedient and flexible alternative to litigation.
Meticulous preparation. Sandy involves her clients in the process and keeps them well-informed. She takes her work seriously and is very effective and efficient in making sure her clients are thoroughly represented. Clients are empowered by Sandy's wealth of knowledge allowing them to trust her course of action for a successful outcome. Her preparedness and personal attention to each case leaves little room for a case to drag on unnecessarily. Those who are familiar with Sandy, know she is a woman of few words, but every word she speaks counts.
Mediation and Arbitration. Sandy has meditated for 25 years. Sandy participated as a trainer on Arbitration Training programs of the AAML for several years including the 2020 Virtual AAML Arbitration Training Program. She arbitrates not only complex family law disputes, but also is willing to arbitrate limited family law issues for a fixed fee to facilitate closure.
Member of Georgia Commission on Dispute Resolution 2010 to present
Georgia State Bar Board of Governors 2010-2015
American Academy of Matrimonial Lawyers (AAML), Georgia Chapter, 1985 to present
President, Georgia Chapter of AAML 2003-2005
Chair, Family Law Section, State Bar of Georgia 2002-2003
Chairperson, Family Law Section, Atlanta Bar Association 1985-1986
Adjunct Professor, Family Law, Emory University School of Law, Fall Semester, 1989
Received "The George S. Stern Achievement Award" from the Georgia Chapter of the AAML for promoting professionalism and excellence in the practice of family law, 2017.
Selected by other lawyers and Georgia Super Lawyers Magazine as a "Super Lawyer" on multiple occasions.
Rated by AVVO as "superb" earning 10 out of 10 points for experience, industry recognition and professional conduct, and is endorsed by her peers.
Listed in the Best Lawyers in America since 2008
Outside the office, Sandy enjoys golfing, going on walks with good friends, and listening to classical music.
"When facing a divorce, I help clients overcome anger and fear with self-respect and newly found confidence."